2022 witnessed some crucial developments in the history of architecture. The push for ecologically responsible building practices, simplicity, and wellness continued to dominate the industry. The Pritzker Prize, nicknamed the "Nobel prize of architecture", went to Francis Kéré, an African national, for the first time. Exciting new projects, many of which have been in development for years, continued to pop up in all corners of the world.
As we head into 2023 here are six remarkable architectural projects from six different continents, each clearly capturing the movement toward sustainability, innovation, and globalism.
1. Museum of the Future — Dubai, UAE
Already cited by National Geographic as one of the most beautiful museums in the world, the Museum of the Future in Dubai opened its doors to visitors in February 2022.
The seven-story, pillarless, and ellipse-shaped building resembles a hula hoop in swift action. Its stainless steel facade is illuminated with words of hope inscribed with Arabic calligraphy. It translates as: 'The future belongs to those who can imagine it, design it, and execute it. It isn't something you await, but rather create'.
Unsurprisingly, the collection focuses on VR, AR, Big Data, robotics, and AI, with innovation labs dedicated to areas such as health, education, smart cities, and energy.
2. S.Pellegrino Flagship Factory — Bergamo, Italy
As of 2022, San Pellegrino, the iconic sparkling beverage company from North Italy, has a new home close to Bergamo to match its historical and cultural heritage, as well as its global reputation.
Built by the architecture firm BIG, this new flagship factory is nestled among the Italian Alps, where beverages are bottled.
The design integrates the natural aesthetic of the surrounding landscapes into the elegant glass and curves inspired by the forms of S.Pellegrino bottles.
3. Sydney Modern — Sydney, Australia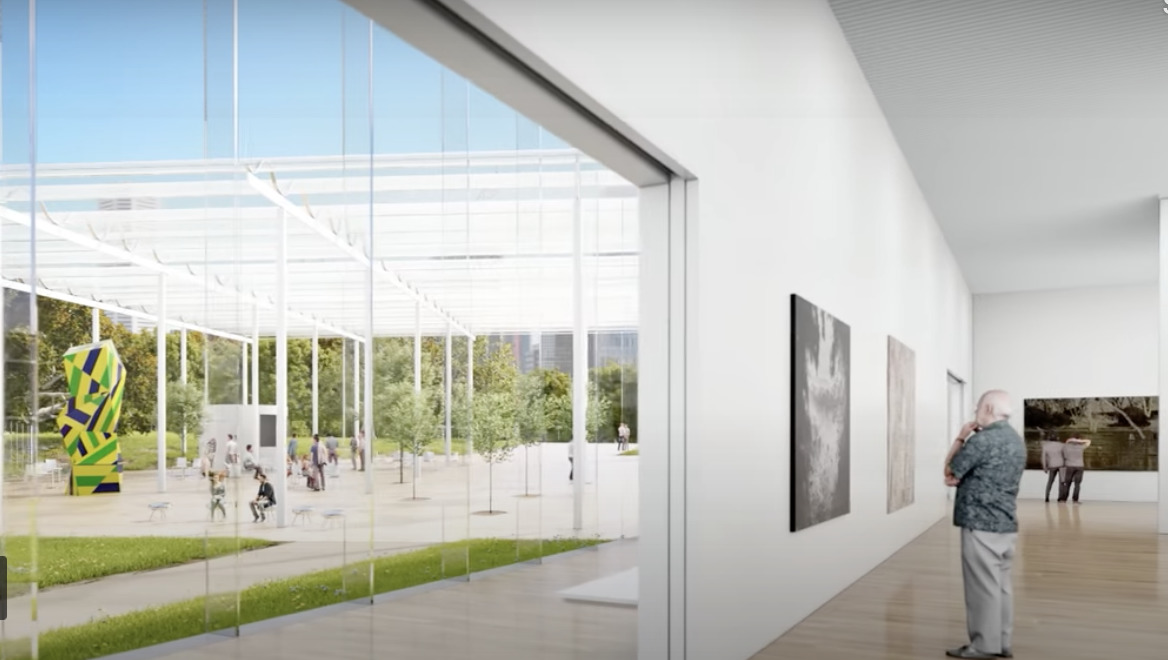 Since opening its doors to the public in December 2022, Sydney Modern — a part of the Art Gallery of New South Wales — connects art, community, and sweeping views of Sydney Harbour's historic Woolloomooloo Bay.
The Japanese architecture firm SANAA has been working on this gallery, which is comprised of a cluster of interlocked and rectilinear pavilions grouped around a glass-walled atrium at the center.
To further symbolize the transformations in the Australian psyche, Sydney Modern is designed to contrast the neo-classical galleries standing next to it, which were instructed to be "as strictly classical as possible" during the 19th century under colonial rule.
4. Rosewood Tower — São Paulo, Brazil
Jean Nouvel, the architect that built the Rosewood Tower, a 93-meter-high residential building in São Paulo, says living at height doesn't mean abandoning local materials which have shaped cultures and history. In contrast, Nouvel believes trees and bushes taking over cities are instrumental to urban progress.
Resembling a tree with strong roots, Rosewood Tower is a vertical garden designed as a tribute to the Atlantic forest that lines much of Brazil's coast. Hailed as an oasis in the hectic heart of São Paulo, the building exemplifies possibilities in what its architect describes as "calm urbanization".
5. Norrsken Kigali House — Kigali, Rwanda
Rwanda has long been a poster child of African progress, development, and innovation. Thanks to Norrsken Kigali House, an entrepreneurial workspace designed by MASS and is currently the biggest co-working hub in Africa, Rwanda might be about to bolster its image as the most business-friendly African country.
Norrsken Kigali House is climate-responsive and includes a diverse range of collaborative and individual workspaces, in addition to landscaped and semi-public outdoor areas. It was converted from an old international school campus, which was one of the few older buildings in the Central Business District of Kigali, and facing a risk of demolition in favor of high-rise commercial buildings. Thus, the hub is among the first examples of adaptive reuse.
6. Arkansas Museum of Fine Arts — Little Rock, US
First opened in the 1930s, the Arkansas Museum of Fine Arts gradually grew over decades, but with each added building, it became an art complex without architectural integrity. Hence, Studio Gang overhauled the museum into a holistic and connected art center, allowing the museum to accept visitors again in April 2022.
Inspiration for the museum came from the topographical diversity of the state of Arkansas. Among the museum's most unique features is its folded plate concrete roof, which flows north and south like a curving river. Under this roof, there's a 14,000-piece permanent collection, as well as live performances, temporary exhibitions, and art courses.