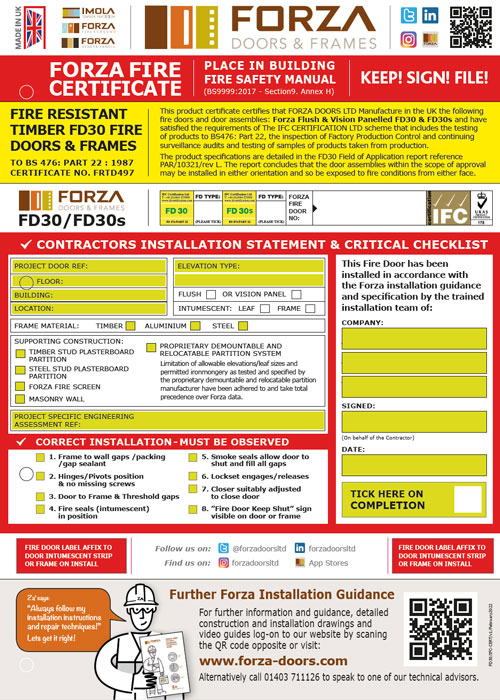 Forza Doors has expanded its use of primary test evidence, bringing increased scope for prescribed hardware use, including mag locks and permitted repairs to its 2022 FD30 Fire Certificate.
Forza Doors Ltd, a manufacturer of bespoke timber, laminate, primed and sprayed doors and panels has, after completing a five-yearly review of its FD30 Field of Application and permitted hardware scope, launched an improved installation and hardware guides for FD30(s) fire door assemblies.
The evidence has been created to support the firm's investment in research, testing and design.
Forza's FD30 doors will now benefit from an array of permitted maintenance repairs. Backed up with primary test evidence, these repairs can increase the lifespan of Fire Doors, saving money on replacements.
"We believe with the upgrades this certificate brings, there has never been a better time to specify an FD30 Forza Door," said technical director Jim White. "It's all part of our continual investment in testing; each version of the certificate will support more hardware than the last. And FD30 is just the start, we will roll out a similarly improved FD60 Fire Certificate soon, with FD90 and FD120 following later in the year."