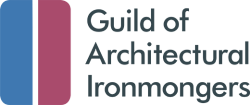 A new logo and corporate identity for the Guild was launched at the GAI Members' Day on 27 May. These changes mark the start of the GAI's new organisational strategy and the next phase of growth.
Simon Forrester, chief executive of the GAI, said: "A key part of our strategy is now about integrating the two halves of the organisation – the Guild and the Institute of Architectural Ironmongers (IAI) – and retaining the best from both.
"As part of this, we want to show how the two complement each other; with the GAI and its education programme sitting alongside the IAI with its regional reach and well-established CPD programme. Like the two halves of a hinge that work together with flexibility and strength, the GAI is now an integrated organisation that serves and supports the industry's businesses and individuals at every stage of their professional journey."
When creating the new logo, the GAI and IAI wanted to incorporate a door element into the design and give the branding a general refresh. Alan Field of Field Marketing Design helped the GAI to create its new logo.
"The symbolism of the hinge most resonated with the working group; two sides of a hinge working together to get the job done," said Alan, adding that "the logo incorporates the colour palettes of both the GAI and IAI on either side of the hinge and signals each organisation working together in the
next phase."