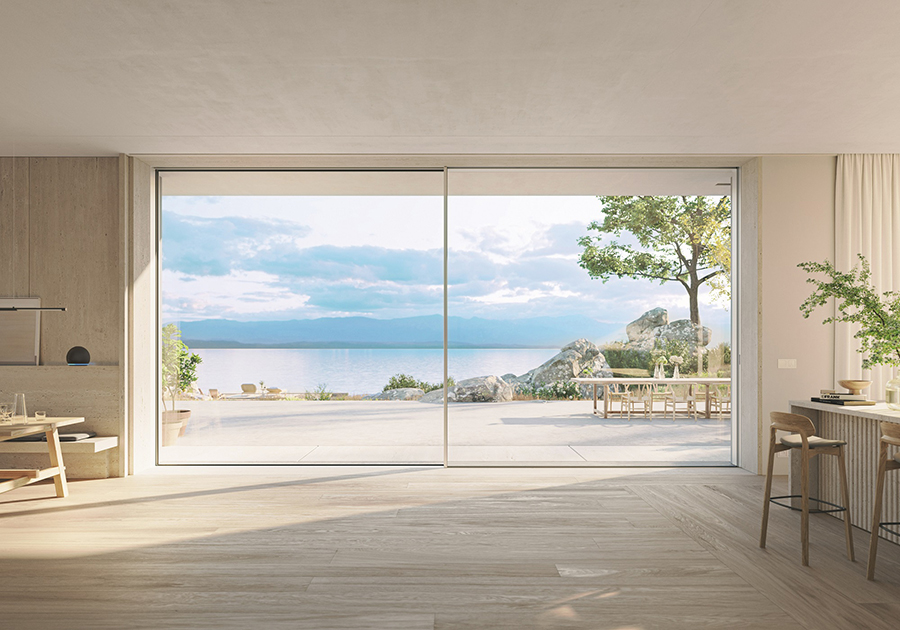 Schüco has launched the AS PD 75.HI Panoramic Sliding Door, which, it claims, redefines the standards for sliding door systems. This state-of-the-art sliding door combines maximum transparency, ease of access, and an array of customisable design options.
The Schüco Panoramic Door is characterised by large-scale glass areas from floor to ceiling, with flush-fitted frames concealed in the walls, ceiling and floor. Only a narrow 35mm interlock section is visible. The result is virtually frameless views.
Developed in response to the needs of architects, specifiers, and clients, Schüco engaged in extensive dialogue to understand the specific requirements of the premium residential sector. The result is the Schüco AS PD 75.HI Panoramic Door which brings together multi-functionality and style in three distinct product lines:
The Access Line offers the balance between design and function, with a level threshold and easy operation.
The completely frameless Design Line enables uninterrupted views and offers a sleek, modern look.
The Performance Line with lift-and-slide technology and automated operation offers the highest level of technical performance combining maximum comfort with stylish design.
An extensive range of add-on features can be incorporated to offer a tailored solution for a wide range of project requirements.
Architects can emphasise a minimalist appearance with the help of features such as the integrated flush pull grip and the dynamic cover profile. The flush-fitted appearance of the door when closed, as well as its seamless integration into interior design when open, make it an ideal choice for both modern and traditional spaces
Smart technology allows sliding units to be opened at the touch of a button via app or switch, and integration into smart home systems. Optional lift-and-slide technology, a choice of double or triple glazing and integrated sun shading offer ultimate weather performance for year-round comfort.
A wide range of opening configurations and options such as Schüco WoodDesign for a timber look can be selected to suit the specific needs and tastes of each client.