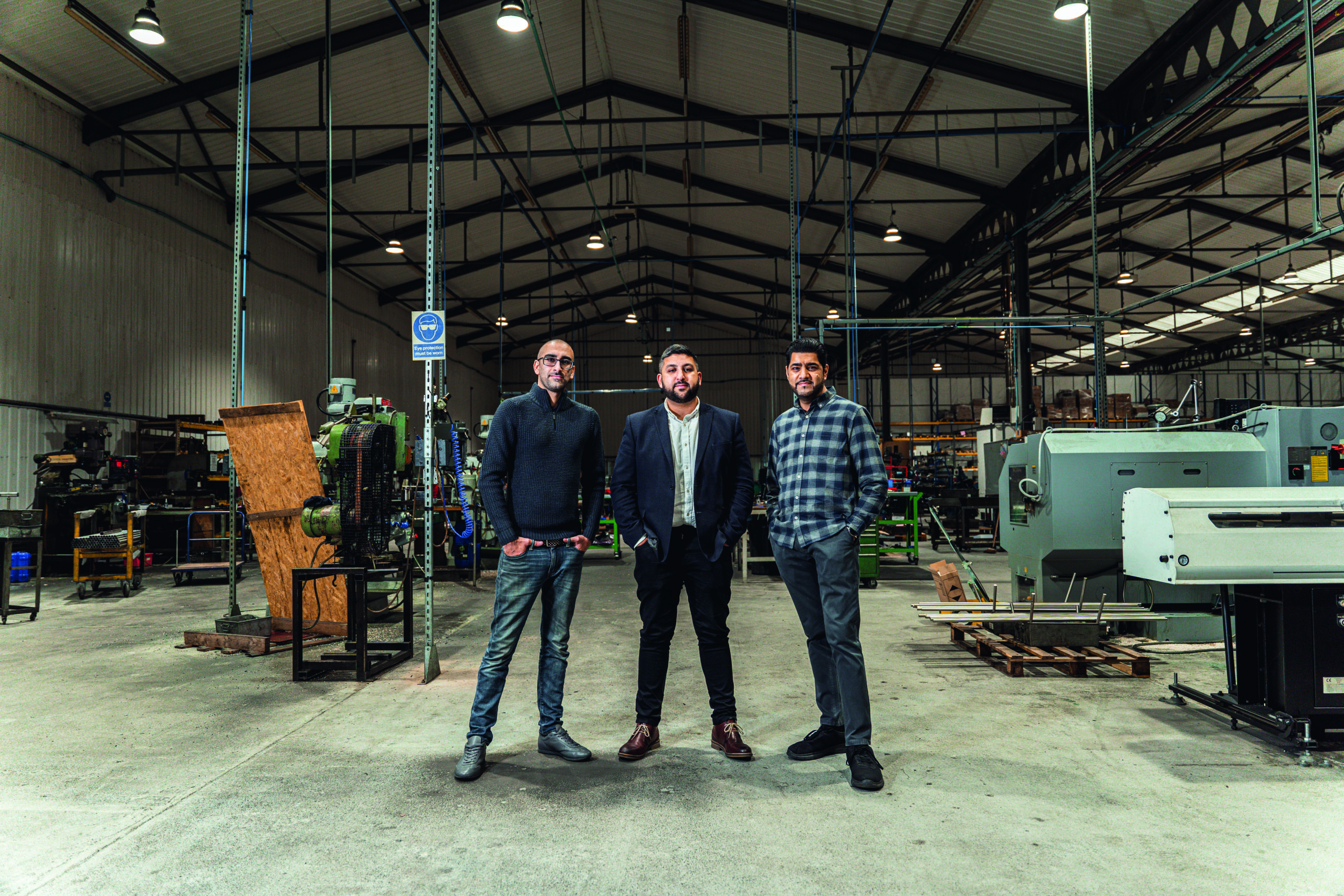 With over 32 years in the AI sector, and expertise in manufacture of handles in surgical or marine-grade 316 stainless steel, you'd expect Instinct to be a household name. But since it was first established in 1989, the decision was taken to, in Haq Meharban's words "be the secret weapon in the AI arsenal". Some of the industry's best-known products are in fact made by Instinct, but the purposeful policy of not stepping on AI's toes has meant the firm has remained in the background. Until now.
One of the sources of its longevity in the sector is its bespoke service. As Nil Chohan puts it: "With Instinct, difference is built in. You can come in with a rough sketch on a napkin, and we can work with you to turn it into a single handle, or even an entire product range for you to market under your own brand. Stainless steel is far less forgiving than brass to work with and requires a specialist skill set. Back when we were sourcing from overseas, our fathers had to go to the factories to show them how to deliver products to our standards."
And coming from the jewellery industry as this reporter did, the 'bespoke versus off-the-peg' model is very similar to the issues faced by jewellery manufacturers: quality versus price, and asking the person selecting the item 'do you want something unique, or are you happy for your doors to look like one in the building opposite?'
How does this 'bespoke door jewellery' stand against lower cost alternatives? Haq responded: "We have resisted any request to cheapen the product or reduce quality or finish. That market is already well served by cheap imports. It's easy to see where the money is spent (or not), and we are confident the market for a unique product will only grow.
"We've been very loyal to our customer base and have spent a lot of time educating them on the possibilities beyond the standard catalogue. They have returned that loyalty. It used to be 'you can have any handle you like, in mirror or matt finish'. Now we're producing handles in PVD, rubberised grips, polyester powder coated, ceramic inlays, and much more."
Constant discussion with clients and end users prompts much of Instinct's innovation. One example of this is that a client commented that stainless steel can feel cold to the touch, so Instinct developed warm-feel coatings that don't detract from the look of the handle.
An instinct for innovation
Instinct as a company was ahead of the game with an anti-microbial range (Coniarch) produced around 15 years ago in liaison with the Copper Development Association and Southampton University. Based on a 70:30 cupronickel alloy in round, oval and half-moon section, the system was trialled in hospital environments, but is now becoming popular in commercial and hospitality settings.
And the innovation continues. Haq and Nil were good enough to give me a 'scoop', explaining that Instinct is to launch a slimline sprung ball bearing rose to meet BS EN 1906 grade 4. This new product offers one single lever for all locks, with an extremely slim rose. Currently going through fire testing, it will be available in the new year.
The business is coming out of the shadows. Haq: "We are responding to need. Our customers are keen to find unique products that meet their vision and are not afraid of paying a little more for something that will last. We want to educate the specifier and end user to demonstrate the value of buying well-made and ethically sourced products backed by British engineering, British innovation and know-how."
The drive has been to bring as much as possible within the businesses' scope of control, and this led us to discuss ethics in the sector. Instinct has worked hard to address this. "Everything comes from the UK or Europe so we can feel confident that it's ethically sourced," says Haq. "Many years ago we began to have concerns about overseas suppliers who approached us to manufacture on our behalf, both in terms of inconsistent quality and also their behaviour towards their workforce. Instinct has re-focused the business within the UK, and over the past few years plans have been put in place to bring production, finishing and fulfilment within the company itself wherever possible."
The short term includes buying the polishing company that has worked with Instinct for years, and moving it onsite within their 68,000ft2 factory. "Most of our production is now within the UK – we are proud members of the Made in Britain Scheme, and we are moving to source all our steel from UK mills," says Nil. "This will not only negate supply issues post-Brexit, but also strengthen the story around the provenance of our products."
So why the change of direction? "During lockdown we focused on R&D and took time to look at the business strategically," says Haq. "Our eyes are wide open, we want to meet the demands of a changing sector while remaining true to our fathers' vision of quality and excellence."
This second generation of company leaders has a new vision, new ideas, and uses modern processes to deliver a product that's just as different as you want it to be. n
www.instincthardware.co.uk