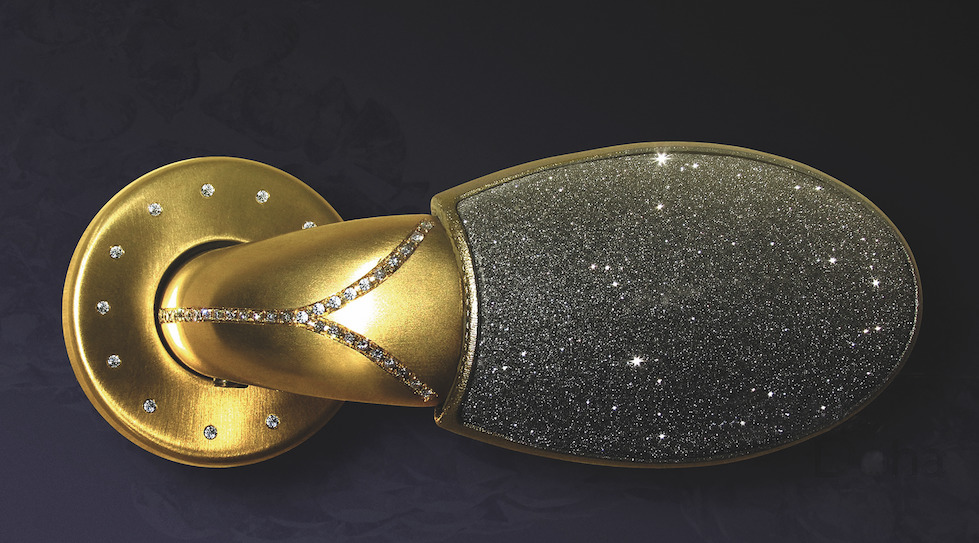 The Tribute to Doha is a handle encrusted with diamond dust and gemstones and backlit using a patented LED system. It is priced at around €100,000.
Manufactured by door handle and accessory specialist F.lli Razeto & Casareto, suppliers to the yachting industry, the piece of "furniture jewellery" premiered at the Qatar International Boat Show in 2015. F.lli Razeto & Casareto developed the concept and engineering for the handle, collaborating with Dblux, a diamond broker.
The design presented in Qatar was purely illustrative as the firm creates bespoke handles to order. Aside from brass, which is galvanised to obtain a gold, black ruthenium or palladium colour finish, the handle can also be ordered in any other type of metal, including solid gold.
The hand-applied finish is created using very fine diamond dust, in addition to both natural and man-made diamonds
The wireless frame-to-door transmission system for the backlighting serves aesthetic and safety functions by indicating exit paths in case of a blackout. It can also be programmed to use colour coding to communicate with service staff. For example, red would mean 'do not disturb', while green would indicate they are free to enter. In all, 10 light colours and three different levels of intensity are available, all adjustable directly by the user. The titanium back cover is further perforated to allow the light to shine onto the door surface.
The hand-applied finish is created using very fine diamond dust (grain dimensions are under 0.3mm), in addition to both natural and man-made diamonds. Each handle is accompanied by a certificate attesting to the standard of quality of the precious gemstones adorning each piece.
A close runner-up to claim the world's most expensive door handle was created by Australian master jeweller Nic Cerrone. He was asked by a Sydney socialite – whose identity remains unknown – to design a bespoke 18 karat gold door handle, with diamonds, for her home.
The value of the handle comes in at approximately $100,000 and was made in Cerrone's Sydney workshop by a team of skilled artisans. 
What do you think? Is there a place for such extravagance in hardware? Does it push the envelope on design possibility or do such design choices fail to align with the needs, values, and sustainability considerations of both the occupants and the environment? Share your thoughts in the comment box below.