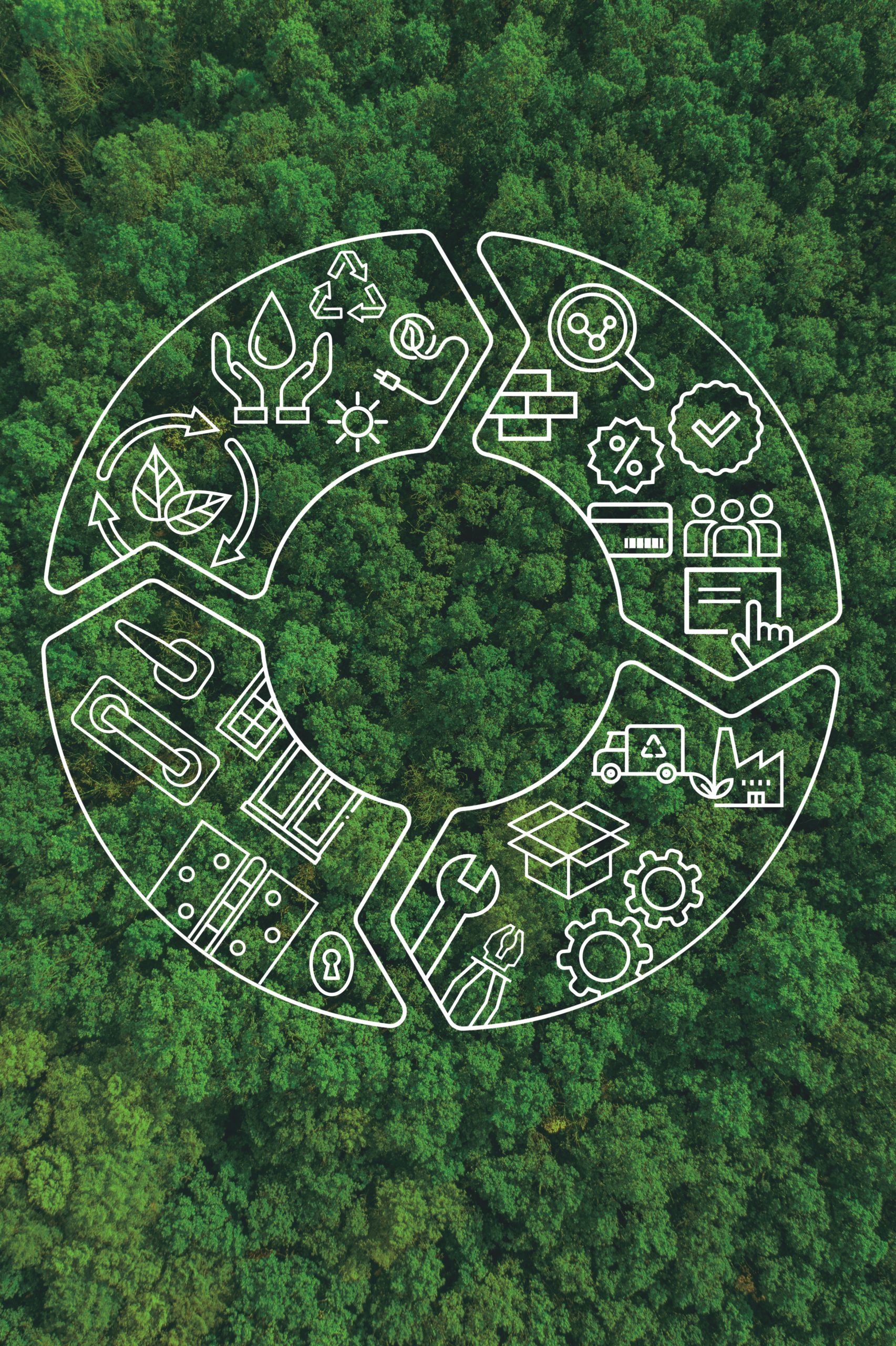 The circular economy is based on the principles of designing out waste and pollution, keeping products and materials in use, and regenerating natural systems.
This is in contrast to the traditional 'linear' model which is based on the concept of 'make, break, and discard' or 'take, make, waste'.
The circular economy is a concept in which everything is engineered to be constantly reused or recycled. It requires rethinking of design, manufacturing, selling, re-using, recycling and consumer ownership to keep resources in use for as long as possible and to extract maximum value.
'Business as usual' sees contractors and the supply chain following the waste hierarchy; reduce, reuse and recycle, to a greater or lesser extent. But the concept of the circular economy goes beyond the 3 R's and aims to maximise total material resource efficiency.
There is massive economic advantage for businesses adopting a circular economy. The UK Department for Environment, Food and Rural Affairs (Defra) calculates profit of up to £23bn per year for UK businesses through low cost or no cost improvements and McKinsey estimates a global value of $3.7 trillion per year (ref. WRAP)
The construction domain is one of the largest users of energy and is responsible for 38% of emissions globally. Further, it is responsible for 30% of the extraction of natural resources in the world. Hence, to reduce its ecological footprint this industry must shift from a linear to a circular economy. This will not just protect the environment but also benefit the local economy by encouraging sustainable production models.
The circular economy is a systems solution framework that tackles global challenges like climate change, biodiversity loss, waste, and pollution"

Ellen Mcarthur foundation
In February 2020, the European Commission released a paper on circular economy in architecture: the "Circular Economy – Principles for Building Design" document.
It listed the following elements:
Durability: building and elemental service life planning, encouraging a medium to long term focus on the design life of major building elements, as well as their associated maintenance and replacement cycles;
Adaptability: to extend the service life of the building as a whole, either by facilitating the continuation of the intended use or through possible future changes in use – with a focus on replacement and refurbishment;
Reduce waste and facilitate high-quality waste management: facilitate the future circular use of building elements, components and parts, with a focus on producing less waste and on the potential for the reuse, or high-quality recycling of major building elements following deconstruction. This includes efforts along the value chain to promote:
the reuse or recycling of resources, (i.e. materials) in a way that most of the material's value is retained and recovered at the end of a building's life span
the component design and the use of different construction methods to influence the recovery for reuse or recycling to avoid down-cycling.

The key players involved in the document are building users, facility managers and owners, design teams (engineering and architecture), contractors and builders, manufacturers of construction products, deconstruction and demolition teams, investors, developers and insurance providers, government, regulators and local authorities.
The European Commission has also concluded that Life Cycle Assessments provide the best framework for assessing the potential environmental impacts of products currently available. They also state the need for more consistent data
and consensus.
The pressure is now on for the supply chain, building materials and furnishings manufacturers to respond, investing in new solutions providing:
use of renewable materials
production processes with low environmental impact
materials have a high recycled content
durable materials
non-hazardous materials
products that can be reused, disassembled, and recycled
create material passports

There are several areas the industry should be looking into, from reducing material consumption through improved product and building lifecycles, to eliminating the use of single use plastics (consider the government's impending plastic tax). In general, we should be looking to reduce the carbon footprint of building environments, adopting the use of renewable energy and reducing water consumption for example.
Every time you set a line in a drawing you make a CO2 impact and if you do not have consideration of what it means you are cheating the environment, you are cheating your business proposal, you are cheating as an architect."

Anders Lendager, Snøhetta

However, much more can be done from the viewpoint of construction materials and industry waste. From an architectural ironmongery perspective, innovation can help minimise the need for repeat manufacturing, shipments and packing materials. In addition, product lifecycles can be optimised through correct specification and improved maintenance periods – reducing the need for replacements, and thus further material consumption.
Concerning waste, recycling facilities can generate energy from waste to supply renewable electricity and heat to support industry, healthcare and around 8,000 residents connected to carbon zero district heating schemes. These energy schemes have saved over 500,000 tonnes of CO2 emissions in the past four years and have produced more than 700MWe of electricity each year.
Allegion UK is committed to supporting sustainability in construction. It is helping to create a more transparent and sustainable global industry by proactively participating in the EPD programme, with full EPD documentation available for download from the Allegion website on Briton products in their respective categories, based on ISO 14025 and EN 15804 environmental declarations. It also aims to ensure all its supply chains are part of a FSC, or similar scheme.
In addition, with Plastic Tax and the Extended Producer Responsibility coming into effect in 2022 and 2023 respectively, the company is proactively aiming for 100% sustainable packaging for its products. Allegion is focusing on making regular improvements in sustainability management systems and focusing on enhancing product life cycles through the reduction in usage of natural resources and the improved recycling and reuse of materials, all in a bid to help minimise its environmental impact as a manufacturer.
In terms of energy consumption, Allegion uses 100% renewable electricity, and has incorporated light and tap sensors in facilities to reduce electricity and water consumption.
Many measures are not currently mandatory for manufacturers in the UK, but the significance of sustainability is growing quickly, and it is key for decision makers (all stakeholders from end users to manufacturers) to recognise their importance in a bid to raise standards across the board.
How can you verify credentials of such products (ISO 14001)?
Product credentials are crucial in modern projects and decision makers can also choose to enrol in further programmes that focus on sustainability efforts, such as EN 15804 – Sustainability of Construction Works – and Environmental Product Declarations (EPDs) that report on the environmental data of your product – in accordance with the international standard ISO 14025. For an EPD to be awarded, a life cycle assessment must also be undertaken, and this must meet Product Category Rules (PCR), and therefore must be declared as acceptable in building rating schemes such as BREEAM.
What does it mean for manufacturers in developing products- materials sourced etc.?
For manufacturers, it's crucial R&D teams continue to innovate, improving all aspects of the product lifecycle and aiming towards 100% sustainable packaging. For the packaging stage, it's essential that teams are aware of the impending plastic packaging tax and extended producer responsibility also.
What is the role of EPDs and third-party lifecycle assessment?
EPDs (Environmental Product Declarations) are independently verified documents that communicate transparent and comparable information about the environmental impact of products throughout their life cycle. They provide a standard way of declaring the impacts of manufacturing and using products through Life Cycle Assessment (LCA). Construction projects are assessed using a single set of Product Category Rules (PCR) ensuring consistent reporting for similar products. Many manufacturers in the AI industry have EPDs for their products including HOPPE, ASSA ABLOY, GEZE, dormakaba and Allegion.
What else can I look for when sourcing products?
Cradle to Cradle Certified (C2C Certified), which is a framework based on quality assessment and innovation. Products are assessed under five criteria called quality categories: Material Health, Material Reutilisation, Renewable Energy & Carbon Management, Water Stewardship and Social Fairness. The product is then given an overall certification level, a grade, based on how many of the quality categories the product fulfils: Basic, Bronze, Silver, Gold and Platinum.
Cradle-to-cradle design is a biomimetic approach to the design of products and systems. The idea was deeply explored and brought to the forefront by architect William McDonough in his 2002 book "Cradle to Cradle: Remaking the Way We Make Things." Since then, McDonough's ideas of C2C have taken a stronghold within areas of building and design ethics at large.
The UKGBC (Green Building Council) is working with its members and other stakeholders to develop practical guidance to overcome the barriers to implementing circular economy principles. Last year it also launched Circular Economy Live Projects Forum to bring together individuals from across the value chain who are implementing circular economy principles to share learnings, find solutions, and make progress on live projects. It is sharing findings this year.
What a good idea! Some examples of circular economy in product use:
Valcucine is revolutionising the kitchen industry with a base unit system, called Invitrum, made entirely of glass except for an aluminium frame. A product designed to be circular, recyclable and easily disassembled (reused or recycled) at the end of the life cycle.
Norwegian architecture firm Snøhetta worked on a research project related to plastic, its journey and footprint in the value chain, as well as its inherent qualities. It developed a chair, called S-1500, with a body made from 100 % recycled plastic from the local fish farming industry in the North of Norway, and a subframe made from recycled steel.
Flooring company Desso has been one of the pioneers of the Cradle to Cradle approach.
The company continues to innovate around circular economy principles, developing take-back programs and products with recyclable yarn that can be separated from the backing and used over and over again. It uses 100% renewable hydropower electricity at every stage of carpet manufacturing,
as well as working on developing bio-degradable material bases for their carpets such as corn by-products and bamboo yarn.
Villa Welpeloo is a house and art studio in The Netherlands designed and constructed by Superuse Studios. Sixty per cent of the house is made up of materials salvaged from the local area: steel was sourced from machinery previously used in textile production, and the wood used in the facade was taken from 200 damaged cable reels.
Report by Sue Corrick, product marketing manager of Allegion UK. Additional reporting by Nicky Roger.